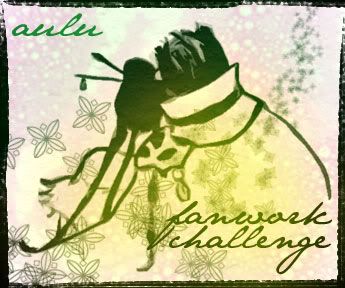 Again, this was for the one year fanniversary of
aulu
. Congratulations, o little Lj Comm!
Anyone can fulfill these challenges, and there's no deadline. Just be sure to actually post them to the community and mention that it's for the challenge when you post.
Media: Fic.
Rating: Your call.
Prompt: Happiness.
Additional notes/squicks: Pairing fic preferred. Would prefer a ficlet-length or longer.
Media: Verbiage
Rating: Any
Prompt: Courage
Notes/Squicks: Guado barbs! Er, nevermind, not relevant here.
Media: Any (rly)
Rating: G-R (not NC-17)
Prompt:
This poem
(poetry is fantastic inspiration for me, at least)
Additional notes/squicks: No porn. And really, the prompt doesn't lend to porn (if I wanted that I would have linked to "The Love Song of J. Alfred Prufrock") I'm just looking for something unusual.
Media: Fic
Rating: G to NC-17
Prompt: Pink
Additional notes/squicks: Short fic preferred.
Media: art
Rating: whatever
Prompt: battle
Have at them!
Long overdue challenge closing. Bad mod!